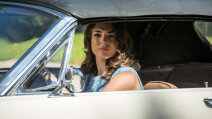 A Crime to Remember - Season 4, Episode 8
Technical
Episode Title: The Newlydeads
Episode Run Time: 60
Episode Air Date: 2017-01-31 21:00
Episode Summary: Los Angeles, CA, 1968: It's a temperate evening in the Los Angeles Castilian apartment complex, but something is amiss inside the adjacent parking garage. In stall 17, the headlights of a yellow sports car are blazing, the engine is running and beautiful Cheryl Perveler is bleeding out from a gunshot to the head. The viciousness of the shooting leads police to believe the attack was personal, but their victim is new to the city and recently married - who could possibly want her dead? As they pry into Cheryl's personal life, investigators venture down a road of fast cars, crooked cops, hit-and-runs, and arson attempts.